FLU VACCINE
ELP will begin offering FLU VACCINE on 9.1.2017. Our office has both pediatric and adolescent FLU SHOTS available. There will be No FLU MIST for this current year.

Office Hours for shot only:
WESTPORT RD.
9 a.m. to 11:30 a.m. and 1:10 p.m. to 4:30 p.m. MONDAY THRU FRIDAY.
SATURDAY 9 - 12

CRESTWOOD
9 a.m. to 11:30 a.m. and 1:10 p.m. to 4:30 p.m. on WEDNESDAYS,THURSDAYS and FRIDAYS.
Please note this is a change for the CRESTWOOD office.

PLEASE CALL OUR OFFICE TO SET UP AN APPOINTMENT. 896-8868. THANKS!
Welcome Dr. Ochs!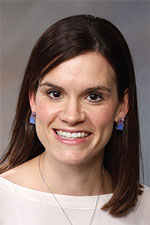 Dr. Ochs was born and raised in Owensboro, KY. She graduated Summa Cum Laude from the University of Kentucky with a degree in biology. She then went onto the University of Louisville School of Medicine where she graduated Cum Laude in 2013 and completed her pediatric residency in 2016... Continue Reading Dr. Ochs' Full Bio »
EFFECTIVE 7/17/2017
Please Join Us in Welcoming Dr. Holloman
East Louisville Pediatrics Is pleased to welcome Jessica Holloman, MD to our practice EFFECTIVE 8/1/2016
Welcome
East Louisville Pediatrics is a comprehensive pediatric practice caring for children from birth to adolescence. We strive to be a medical home where our patients can receive their complete care and treatment. This includes a holistic approach to medical care, including advice on nutrition, behavior, diseases and accident prevention. We strive to treat our children and parents as if they were our own. We have two offices to better serve your needs in Crestwood and Saint Matthews. We provide both well and sick care at both sites.
Our phones are answered 24 hours a day and one of our physicians is always on call for emergencies. Our office staff begins answering calls for appointments at 7:30a.m. and opens the advice line from 8:30-4:30. All acute illness visits are given same day appointments and we have Saturday morning hours at the Saint Matthews office. East Louisville Pediatrics offers a free evening open house each month for expectant parents to meet our physicians and see the office. Please call us with any questions or for a reservation to our open house.
Requesting Refills for Control Substance
East Louisville Pediatrics is now electronically prescribing controlled substances directly to your pharmacy. Your medication will be available at your preferred pharmacy within 48 HOURS.

Please leave the following information when
requesting your prescription refill:
Patient's name, date of birth, name of medication, name and phone number of preferred pharmacy and a number you can be reached at.
THANK YOU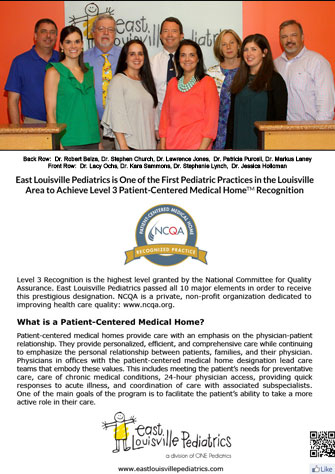 Click to Enlarge